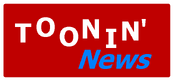 Toonin' News is an upcoming news series exclusive to Pacmansonic138 Network. Reoi from Pac's popular series Reoi's Friends tells news about Pacmansonic138 himself, upcoming events and episodes of Pac's 3 series (including sneak peaks), news about SCP Studios, and more. Some of Toonin' News' news reports are supplied by SCXN News.
The program has been constantly delayed and it is unknown when Toonin' News will launch.
Ad blocker interference detected!
Wikia is a free-to-use site that makes money from advertising. We have a modified experience for viewers using ad blockers

Wikia is not accessible if you've made further modifications. Remove the custom ad blocker rule(s) and the page will load as expected.